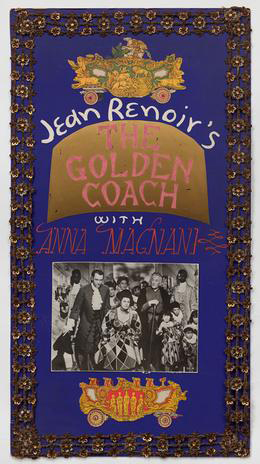 The Tibor de Nagy Gallery is currently presenting its fifth exhibition of works by Jess Collins, February 4 – March 19, 2016.
The exhibition includes collages, paintings, and a group of movie posters that Jess made for the New Yorker film critic Pauline Kael, who was his close friend. Many of these works are being exhibited for the first time. The exhibition presents a range of works from the 1950s to the 1990s, including major paintings ("Translations"), and collages ("Paste-ups").
In 1951 a two screen art house opened called "The Cinema Guild and Studio" on Telegraph Avenue in Berkeley, just south of the university campus. Kael's imaginative, unexpected pairing of films, along with her booking of many unfamiliar European titles, soon attracted devoted and enthusiastic audiences.
She designed and had painted a program guide featuring her lively and informative comments on the upcoming films. In the fall of 1956, Jess began helping at the theaters. Seventeen of Jess's hand-lettered and painted posters have survived. He created a new fresh lettering for every movie, and each was done in the style of the film featured, even if he hadn't seen it. Fourteen of his posters are included in the exhibition
Jess is best known for his paste-ups and paintings that he referred to as his "Salvages," "Translations," and "Romantic paintings." His Paste-ups are complicated Surrealist collages assembled using magazines, photographs, and any other material at hand. The "Translations," which comprise thirty-two paintings completed over thirty years, borrow images from a range of sources, including scientific illustrations, childhood photographs, and postcards. He used the term "salvages" for those works he created on paintings he found at thrift stores, or unfinished canvases of his own.